Posts for tag: oral hygiene
By Old Town Dentistry
October 12, 2018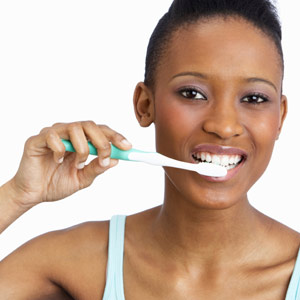 Daily personal care is essential for optimal oral health. Brushing and flossing in particular keep bacteria and acid, the main causes of dental disease, at manageable levels. But to gain the most benefit from your personal care, you need to perform these tasks effectively with the proper techniques and equipment.
For most people brushing begins with a soft-bristled, multi-tufted toothbrush with fluoride toothpaste that helps strengthen enamel. You should hold the brush at a slight angle and brush with a gentle motion to remove plaque, the main cause of gum disease and tooth decay — if you're too aggressive by brushing too hard or too long, you could damage the gums. You should brush no more than twice a day for two minutes, and at least thirty minutes to an hour after eating to allow saliva time to neutralize any remaining acid and help restore minerals to enamel.
Although some people find flossing difficult to perform, it remains an important component of daily care. Flossing once a day removes plaque from between teeth where a brush can't reach. If you need help with your technique using string floss, we'll be glad to provide instruction at your next visit. If you have bridges, braces or other dental restorations or appliances that make string flossing difficult, you might consider other options like floss threaders or a water flosser.
There are also dietary and lifestyle choices you can make to enhance your daily care: limit sugary or acidic foods to mealtime and avoid between meal snacks to reduce bacteria and acid in the mouth; drink water to keep your mouth moist, which will inhibit plaque buildup; and stop tobacco use, excessive alcohol consumption and chewing habits like clenching or biting on hard objects. Above all, be sure to visit us at least twice a year for cleanings and checkups, or when you notice abnormalities like bleeding gums, pain or sores.
Keeping your teeth and gums healthy can be done, but it requires a daily care commitment. Performing these hygiene habits in an effective manner will help preserve your teeth for a lifetime.
If you would like more information on effective oral care, please contact us or schedule an appointment for a consultation.
By Old Town Dentistry
September 22, 2018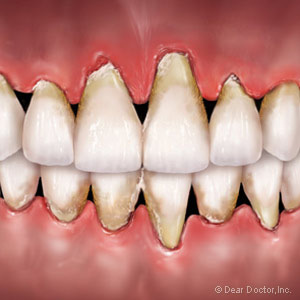 If you ever get out of the habit of daily brushing and flossing, you're setting yourself up for dental disease. Neglecting oral hygiene allows bacterial plaque to build up on tooth surfaces, which can give rise to aggressive gum infections known collectively as periodontal (gum) disease.
Gum disease may first manifest itself as gingivitis, an inflammation of the outer gum tissues around teeth. Resuming hygiene habits could help reduce the infection if it's detected early enough. If the infection has spread deeper below the gum line, though, brushing and flossing won't be able to reach and remove the offending plaque — you'll need our help with that.
The objective of any such treatment is the same as your daily brushing and flossing — remove plaque as well as hardened deposits (calculus) that cause disease. The most basic technique is called scaling in which we use specialized hand instruments (scalers) or ultrasonic equipment to loosen and remove the plaque and calculus from all tooth and gum surfaces.
For deeper plaque, we may need to use a technique called root planing. As its name implies, we use equipment similar to scalers to shave or "plane" plaque, calculus, bacteria or other toxins from the roots that have become ingrained in their surfaces.
These procedures are often carried out with local anesthesia to ensure patient comfort and allow us to be as meticulous as possible with plaque and calculus removal. It's imperative that we remove as much plaque and calculus as possible, and which often involves more than one session. This is because as the gum tissues become less inflamed it allows us to access more plaque-infested areas during subsequent sessions.
Hopefully, these techniques will arrest the infection and restore good health to gum tissues. It's then important for you to recommit and follow through on a renewed daily hygiene regimen to reduce the chances of re-infection that could lead to more serious problems and potential tooth loss.
If you would like more information on treating periodontal (gum) disease, please contact us or schedule an appointment for a consultation. You can also learn more about this topic by reading the Dear Doctor magazine article "Root Planing."
By Old Town Dentistry
July 24, 2018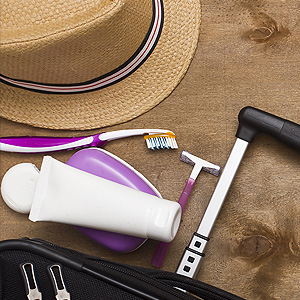 Summer is the time for many children to experience the fun and freedom of sleepaway camp. Along with greater independence, camp brings increased responsibility for kids to take care of themselves, including taking care of their oral health.
Two keys to dental health are a balanced diet and good oral hygiene, but camp life may tempt kids to overdo the kinds of food they don't often indulge in at home. For most campers, enjoying s'mores around the fire is a given, but these marshmallowy treats pack a punch in the sugar department. In fact, a single s'more has half the daily limit of sugar recommended by the World Health Organization—and if the sweet treat's name is any indication, no one stops at just one! Because sticky marshmallows are a central ingredient, they are worse for the teeth than many other sweets; the goo adheres to the surface of the teeth and gets stuck between teeth and braces, increasing the potential for tooth decay. Add in plenty of opportunities to consume sugary drinks and other treats throughout the week, and sleepaway camp can be a less-than-ideal environment to maintain good oral health, especially since brushing and flossing may not be a high priority with so much else going on.
You can help your camper feel more invested in their oral hygiene routine by involving them in as many preparations as possible, such as making a list of items to pack and shopping together for dental supplies. These can include a travel toothbrush with a case and a travel-sized tube of fluoride toothpaste—or a package of pre-pasted disposable toothbrushes. And don't forget dental floss! You may also wish to include gum sweetened with xylitol, a natural sweetener that helps fight cavities. This could come in handy for those times your child gets too busy to brush.
Consider scheduling a teeth cleaning for the downtime after your child gets home from camp and before the start of the new school year, just in case your child wasn't the most diligent about oral hygiene while away—and to ensure that they begin the new school year in the best oral health.
If you would like more information about how your child can maintain good oral health, please call our office to schedule a consultation. You can learn more in the Dear Doctor magazine articles "How to Help Your Child Develop the Best Habits for Oral Health" and "The Bitter Truth About Sugar."