Posts for tag: dental implants
By Old Town Dentistry
October 22, 2018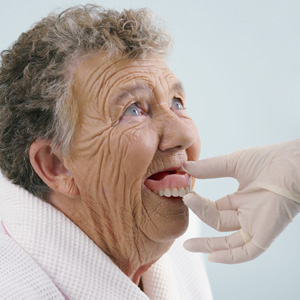 It's a common problem for denture wearers: after years of a comfortable fit, your dentures now seem to be uncomfortably loose. The reason, though, may have more to do with bone loss than the dentures.
Bone is a living tissue with a life cycle — it forms, it ages, and it eventually dies and dissolves (resorbs). It's replaced with new bone and the cycle repeats. Additionally, the forces generated when we bite or chew are transmitted from the teeth to the jaw, which helps stimulate new bone growth. When the natural teeth are missing, however, the bone no longer receives this stimulus. Resorbed bone isn't replaced at a healthy rate, which leads over time to bone loss.
Denture construction can also contribute to bone loss. The denture palate rests for support on the bony ridges that once held the teeth. Over time the compressive forces of the dentures apply damages and reduces the volume of gum tissue and eventually does the same to the bone. Combining all these factors, the reduced gum and bone volume will eventually alter the denture fit.
There are a few alternatives for correcting loose dentures. One is to reline them with new plastic, as either a temporary fix performed during an office visit or a more permanent relining that requires sending your dentures to a dental lab. Depending on the rate of bone loss, a patient could go through several denture relinings to accommodate ongoing changes in the jaw. At some point, though, it may be necessary to create a new set of dentures.
A third alternative that's becoming increasingly useful is to incorporate dental implants into the denture design. Implants can of course be used to replace individual teeth, but a few strategically placed implants (usually of smaller dimension) can serve as a support platform for a removable denture. This relieves some of the compression force of a traditionally worn denture and can slow bone loss.
If you're having problems with your denture fit, call us for an appointment. We'll help you decide on the best alternative to improving the fit and making your dentures more comfortable and secure.
If you would like more information on refitting loose dentures, please contact us today to schedule an appointment for a consultation. You can also learn more about this topic by reading the Dear Doctor magazine article "Loose Dentures."
By Old Town Dentistry
June 24, 2018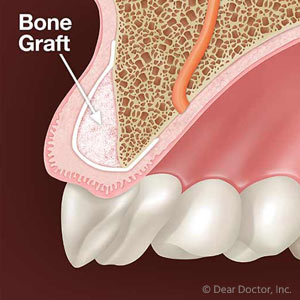 Every year dentists place over 5 million dental implants for lost teeth, often removing the problem tooth and installing the implant at the same time. But getting a "tooth in a day" depends on a number of health factors, especially whether or not there's adequate bone available for the implant. Otherwise, the implant's placement accuracy and success could be compromised.
Bone loss can be a similar problem when a tooth has been missing for a long period of time. If this describes your situation, you may have already lost substantial bone in your jaw. To understand why, we need to know a little about bone's growth cycle.
When bone cells reach the end of their useful life, they're absorbed into the body by a process called resorption.  New cells then form to take the older cells' place in a continuous cycle that keeps the bone healthy and strong. Forces generated when we chew travel through the teeth to the bone and help stimulate this growth. But when a tooth is missing, the bone doesn't receive this stimulus. As a result, the bone may not replace itself at a healthy rate and diminish over time.
In extreme cases, we may need to consider some other dental restoration other than an implant. But if the bone loss isn't too severe, we may be able to help increase it through bone grafting. We insert safe bone grafting material prepared in a lab directly into the jaw through a minor surgical procedure. The graft then acts like a scaffold for bone cells to form and grow upon. In a few months enough new bone may have formed to support an implant.
Bone grafting can also be used if you're having a tooth removed to preserve the bone even if you're not yet ready to obtain an implant. By placing a bone graft immediately after extraction, it's possible to retain the bone for up to ten years—enough time to decide on your options for permanent restoration.
Whatever your situation, it's important that you visit us as soon as possible for a complete examination. Afterward we can assess your options and hopefully come up with a treatment strategy that will eventually include smile-transforming dental implants.
If you would like more information on obtaining dental implants, please contact us or schedule an appointment for a consultation.
By Old Town Dentistry
May 25, 2018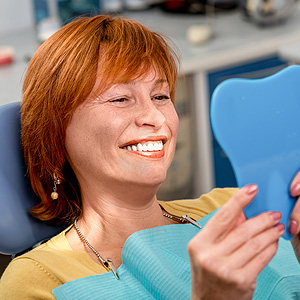 There's a lot to like about dental implants for replacing missing teeth. Not only are they life-like, but because they replace the root they also function much like a natural tooth. They also have another unique benefit: a track record for long-lasting durability. It's estimated more than 95% of implants survive at least ten years, with a potential longevity of more than 40 years.
But even with this impressive record, we should still look at the few that didn't and determine the reasons why they failed. We'll soon find that a great number of those reasons will have to do with both oral and general health.
For example, implants rely on adequate bone structure for support. Over time bone cells grow and adhere to the implant's titanium surface to create the durable hold responsible for their longevity. But if conditions like periodontal (gum) disease have damaged the bone, there might not be enough to support an implant.
We may be able to address this inadequacy at the outset with a bone graft to encourage growth, gaining enough perhaps to eventually support an implant. But if bone loss is too extensive, it may be necessary to opt for a different type of restoration.
Slower healing conditions caused by diseases like diabetes, osteoporosis or compromised immune systems can also impact implant success. If healing is impeded after placement surgery the implant may not integrate well with the bone. An infection that existed before surgery or resulted afterward could also have much the same effect.
Oral diseases, especially gum disease, can contribute to later implant failures. Although the implant's materials won't be affected by the infection, the surrounding gum tissues and bone can. An infection can quickly develop into a condition known as peri-implantitis that can weaken these supporting structures and cause the implant to loosen and give way. That's why prompt treatment of gum disease is vital for an affected implant.
The bottom line: maintaining good oral and general health, or improving it, can help keep your implant out of the failure column. Perform daily brushing and flossing (even after you receive your implant) and see your dentist regularly to help stop dental disease. Don't delay treatment for gum disease or other dental conditions. And seek medical care to bring any systemic diseases like diabetes under control.
If you would like more information on dental implants, please contact us or schedule an appointment for a consultation. You can also learn more about this topic by reading the Dear Doctor magazine article "Dental Implants: A Tooth-Replacement Method that Rarely Fails."